An affordable and easy fleet management software
Keep track of how your vehicles are used, avoid paperwork and any unpleasant surprises. WorkMirror fleet management system meets the HMRC's requirements on documentation and provides flexibility at a low price for a mileage log. From £90/year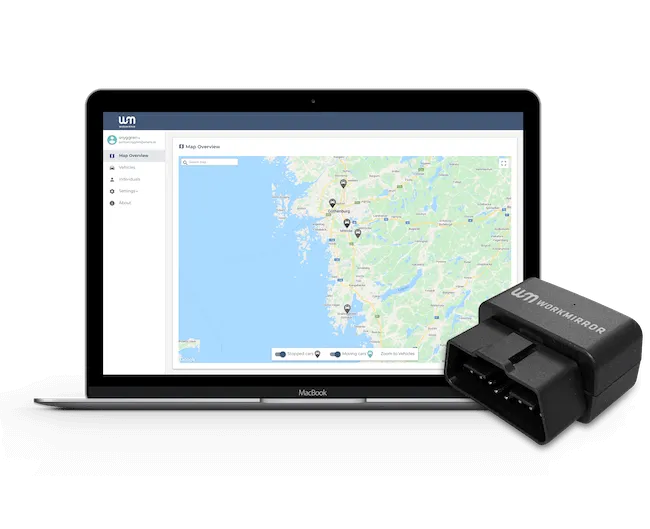 Reduce your costs with asset tracking
Get an overview of all your assets using asset tracking and plant tracking, keep track of where it is, and plan its use effectively.
WorkMirror provides instant visibility of where your containers, skips, bins, plant and other commercial assets are located to ensure maximum efficiency and profitablity. 
Choose a device that suits your needs.
Fleet Management Uses and Industries
WorkMirror delivers efficiencies and savings in a range of industries.
An electronic mileage log will benefit companies, both large and small. By providing an overview of your vehicle's location and usage, you can make informed decisions on future operations and logistics. Some of the most common examples are:
Reduce your costs with WorkMirror fleet management
WorkMirror helps you follow up and analyse your fleet usage so that you can make more efficient decisions.
Providing visibility as to where your vehicles are located and when they are being used. Enabling you to make effective commercial decisions. Simple to setup and easy to use.
Fleet management FUNCTIONS
What you get with WorkMirror fleet management
Fleet management
WorkMirror is the product of Enera, who are ISO accredited and have 20+ years experience in developing notifications systems. WorkMirror is the easiest to use and most cost-effective electronic mileage log. You will get a clear overview of your vehicle fleet and the journeys that they have undertaken.
Tax Authority's export
WorkMirror stores all travel data to allow for easy reporting. These reports can be accessed from any desktop, laptop or tablet and submitted for tax reporting purposes. You can easily select reports of how your commercial vehicles are used for work and personal use.
Driver identification
Full support for driver identification with RFID. Additionally, integrated together with the GPD-unit, so you still only need one device.
Get started quickly
We offer a simple installation where you connect the device to the vehicle in just a few seconds. With our smart import functions, you will get started quickly.
Measure and analyse
See what the usage of your vehicles looks like, where they spend their time. It provides a good basis for making decisions to optimise your vehicle fleet.
Overview of your vehicles
Smart map views where you can quickly have an overview of your vehicles, where they are and if they are in transit. Filter to quickly access targeted information.
Driver identification in the same unit.
If you need to be able to connect the driver with the driven journeys we offer the option to identify the driver with the RFID tag. This means that you can use your existing cards and tags together with our mileage log without any additional devices in the car.
Benefits from using WorkMirror